Samarium Doped Glass Triple Bore
Product Detail
Product Tags
We can provides custom machined laser cavity filters and multi-hole laser flow tubes in a variety of different materials as below:
● Quartz
● Borosilicate glass
● Cerium doped quartz
● Samarium doped glass
The samarium doped glass can block all UV light below 400nm, it is very good UV filter. Samarium doped glass can fluoresce in the visible range, which causes some increase in pumping efficiency with lasing mediums. It also can block the 1064nm wavelength.
By CNC machining, we can create different shapes and dimensions of double bore or triple bore. It will be treated by chemical curing process which strengthens the glass structure.
Different of Samarium Doped Glass And Cerium Doped Quartz
The property that sets Samarium Doped Glass apart from Cerium Doped Glass, is that it also blocks the 1064nm wavelength. This is very important when pumping Nd:YAG lasers which operate at 1064nm, because the 1064nm wavelength coming from the lamp can interfere with the 1064nm wavelength created when pumping the Neodymium in the crystal.
High precision and good shape
Block all UV light below 400nm
Excellent performance and function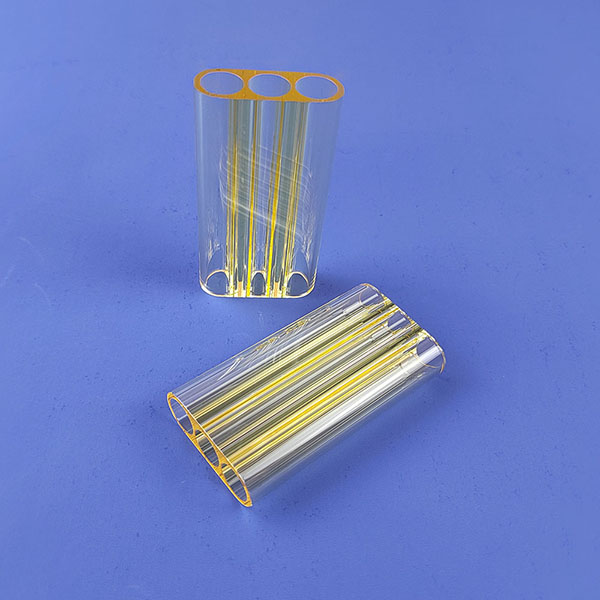 Used in laser head
Solid laser device filter in medical,
Laser-pumping cavity filters
---
Previous:
Samarium Doped Glass Laser Flow Tubes
---
Write your message here and send it to us