Specialty Glass for Sight Glass Applications
Product Detail
Product Tags
Sight glasses are usually made from glass types that don't have to offer optical quality. They only must be clear to allow visual inspection and monitoring of processes behind the sight glass. Sight glasses generally do not need to provide optics quality. Flatness, parallelism, and surface quality do not matter. Hence, such materials are suitable for lighting applications, viewing ports, temperature-resistant sight glasses for high-power UV-light sources, and similar applications. These materials are more economical than the equivalent glass type with optical grade quality.
Shape
Length/OD
width
thickness
Surface quality
Round
0.5mm to 1200mm
0.05mm to 500mm
80/50,60/40,40/20,40/20,20/10
square
0.5mm to 1200mm
0.5mm to 1200mm
0.05mm to 500mm
80/50,60/40,40/20,40/20,20/10
Tolerance:±0.02mm to 2mm
customer
Other sizes can be customized according to customer requirements
Fused quartz
Fused silica
Borosilicate
Schott borofloat 33 glass
Corning® 7980
Sapphire
Short-term application temperature up to 1100 °C
More economical than optical-grade fused silica
High thermal shock resistance
Excellent chemical strength
Low coefficient of expansion
Good UV-transmission
Low absorption
Crystal clear appearance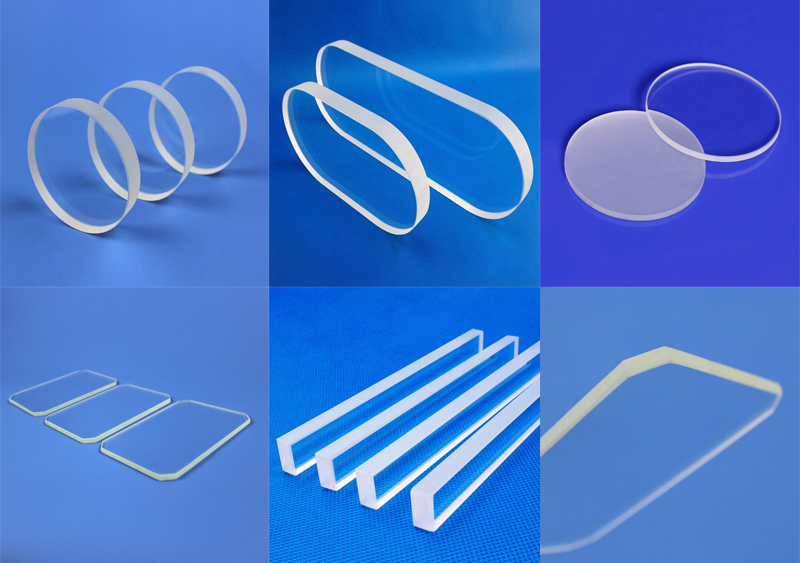 Heat resistant sight glasses
Front windows for UV lamps
Sight-glass for flame monitoring
Material for mechanical quartz parts
UV-LED covers
Protective sight glass windows
UV-disinfection systems for medical use
Heat-resistant viewing ports
UV-drying / curing systems
Quartz windows for the chemical industry
For stock parts, we will ship out within one week. For customized parts, please contact us for more information. If you are in urgent need, we will arrange in priority.
As quartz glass product is fragile, we will make sure that the packing is safe and suitable for international shipping. The product will be packed into small bottle or box, or wrapped with bubble film, then it will be protected by pearl cotton in the paper carton or fumigated wooden box. We will take care of very details to make sure that our customer receives the product in good condition.
By international express, like DHL, TNT, UPS, FEDEX and EMS,
By train, sea or air.
We choose the most economic and safe way to ship the product. Tracking number is available for every shipment.

Welcome to contact us from below for more information!
---
Previous:
Sight glasses made of fused quartz glass
---
Write your message here and send it to us