Sight glasses made of fused quartz glass
Product Detail
Product Tags
As a sight glass Quartz glass has many positive properties such as high temperature resistance, good thermal shock resistance, low coefficient of thermal expansion and high purity.
| | |
| --- | --- |
| Shape | Square, round, oval, triangle, other customized shapes |
| Diameter | 0.2-500mm |
| Thickness | 0.05-200mm |
| Tolerance |  +/-0.02mm |
| S/D | 60/40 |
| Clear aperture | >85%, >90% >95% |
As a manufacturer with rich processing experience, we will think from the perspective of customers and strive to provide suitable products.
Maybe our price is not the best, but our products must be your safe choice.
The following will have an impact on the quotation.
Raw materials: Quartz glass is divided into ultraviolet quartz (JGS1), far ultraviolet quartz (JGS2) and infrared quartz (JGS3). Choose the appropriate material according to your requirements.
Dimensions: the size of the external dimensions, thickness, surface accuracy, parallelism, these information are determined according to the purpose you use, The higher the accuracy requirement, the more expensive the price.
Quantity: The price of 2 pieces and 50 pieces, 500 pieces and 1000 pieces are different.
The complexity of the production, whether it is coated or not, the air line transmittance requirements of bubbles, and other special needs of customers will also affect the price
Fused quartz
Fused silica
Borosilicate
Schott borofloat 33 glass
Corning® 7980
Sapphire
Short-term application temperature up to 1100 °C
More economical than optical-grade fused silica
High thermal shock resistance
Excellent chemical strength
Low coefficient of expansion
Good UV-transmission
Low absorption
Crystal clear appearance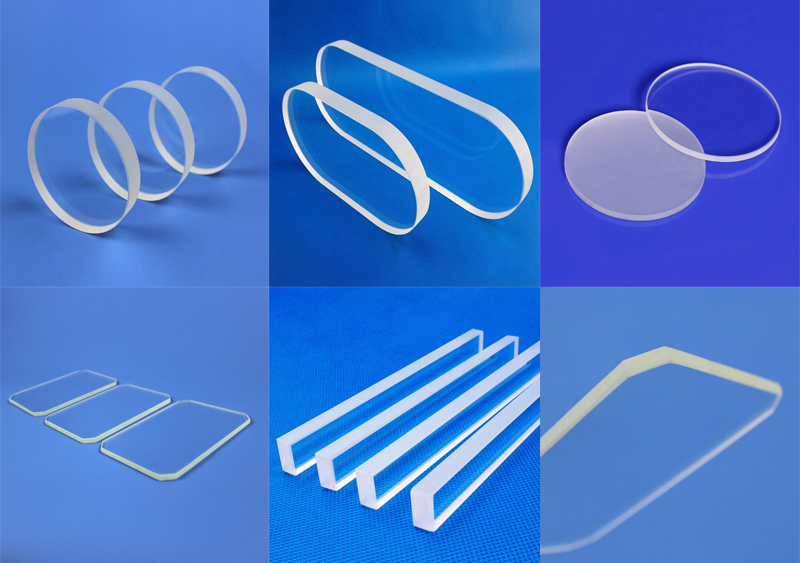 Heat resistant sight glasses
Front windows for UV lamps
Sight-glass for flame monitoring
Material for mechanical quartz parts
UV-LED covers
Protective sight glass windows
UV-disinfection systems for medical use
Heat-resistant viewing ports
UV-drying / curing systems
Quartz windows for the chemical industry
| | |
| --- | --- |
| SIO2 | 99.99% |
| Density | 2.2(g/cm3) |
| Degree of the hardness moh' scale | 6.6 |
| Melting point | 1732℃ |
| Working temperature | 1100℃ |
| Max temperature can reach in a short time | 1450℃ |
| Acid tolerance | 30 times than ceramic,150 times than stainless |
| Visible light transmittance | Above 93% |
| UV spectral region transmittance | 80% |
| Resistance value | 10000 times than ordinary glass |
| Annealing point | 1180℃ |
| Softening point | 1630℃ |
| Strain point | 1100℃ |
For stock parts, we will ship out within one week. For customized parts, please contact us for more information. If you are in urgent need, we will arrange in priority.
As quartz glass product is fragile, we will make sure that the packing is safe and suitable for international shipping. The product will be packed into small bottle or box, or wrapped with bubble film, then it will be protected by pearl cotton in the paper carton or fumigated wooden box. We will take care of very details to make sure that our customer receives the product in good condition.
By international express, like DHL, TNT, UPS, FEDEX and EMS with 7 to15 days.

Welcome to contact us from below for more information!
---
---
Write your message here and send it to us