Precision Glass Machining Grooved Quartz Sheet
Product Detail
Product Tags
We can supply grooved quartz sheet with the help of advanced CNC machined and experienced technical workers. We can provide slotting, drilling, bevel face,beveling services.
The advantage is that the processing accuracy is high and it can meet the needs of different customers.
1. Purity
SiO2 content is more than 99.9%
2. Temperature
High temperature resistant,Boiler Sight can work under 1200C continuously,and in short time can even work under 1450°C,
its softening temperature is  1650°C,and the melting temperature is 1750-1800°C.
Fused quartz glass
Synthetic quartz
Infrared Quartz
Schott borofloat 33 glass
Corning® 7980
Sapphire glass
Lead glass
Evaluate the processing capacity and price according to the size of the product and the difficulty of processing.
1: High purity: SiO2> 99.99%
2: Strict processing accuracy
3: Sample available for free
4: OEM service acceptable
Shape
Solt
Hole
Tolerance
Round,square,Triangle

Other customization

0.2 to 100mm
0.5mm to 200mm
0.05mm to 5mm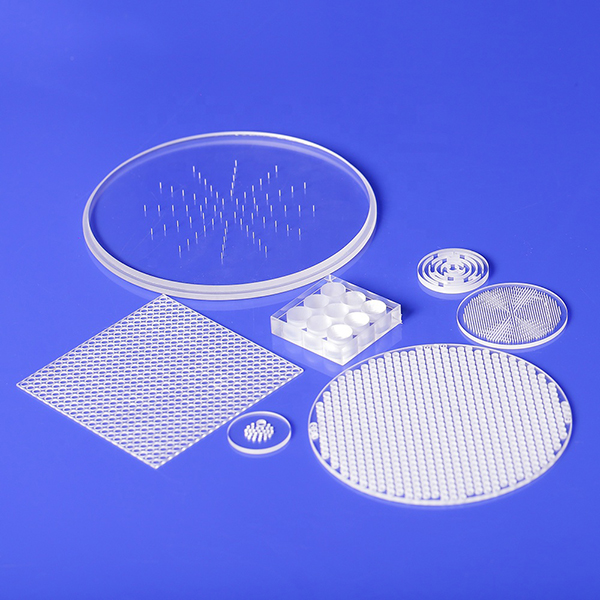 Laser Equipment
Laboratory Appliance
Semiconductor
Single wafer processing equipment (such as shower plates, windows, gas distribution plates, wafer carriers and susceptors)
Temperature resistant accessories on semiconductor equipment
Vacuum coating equipment accessories
If you're looking for Machined quartz discs and Machined quartz plates suppliers who can deliver customized and high-quality Machined quartz plates, contact US.
---
---
Write your message here and send it to us